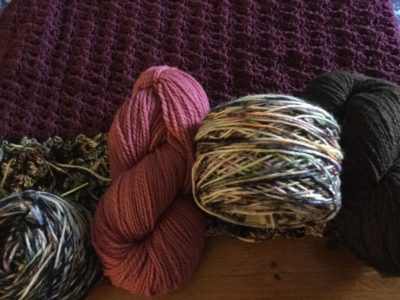 Of course, it is hot as heck outside now, which means I get in the mood to make an afghan. I always seem to want to make afghans during the summer. Go figure!
At first, I did some online shopping, and I found plenty of wonderful yarn to purchase, but I also have been feeling guilty about having some much yarn in my stash too. And, it's good yarn too, most of it at least. I've gotten to the point with my crochet and knitting that I feel like the process is more important or at least as important as the product, so for me, this mean using yarn that feels good to me. Acrylic, while I don't dislike it, just doesn't have the same feel is wool or wool blends.
With this in mind, I headed to my yarn stash and started putting together skeins by weight. Then I put those together by colorways, attempting to match up mixes. That's where I came up with the yarn for my afghan: two DK weight Mad Tosh skeins in the Dirty Harry colorway and three 2-ply skeins from Morehouse Farm in (f I remember correctly because none had a  tag with them) Beet, Raspberry, and Chocolate colorways.
I used a stitch dictionary to come up with the basic design, which is a fan stitch, and I'm using a size H crochet hook. The finished afghan will be used to help protect some new furniture, which (fingers crossed) our cats will be kind to.