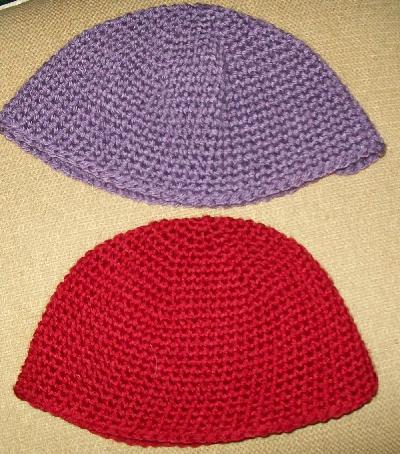 You can call me the "crochet mad hatter" lately, and I mean that in the since of being crazy (not angry). Though, I will admit crochet hats have been trying my patience lately. First, I had issues with various patterns while trying to find one that would work well for chemo hats. Finally, I had success, but then the second hat I made (using the same pattern) didn't turn out so well, and it was my own fault, not the pattern's, because I lost count. As a result the hat (the purple one pictured above) turned out to be a little on the large size shall we say.
My next hat dilemma came in the form of baby hats, which I've made plenty of before.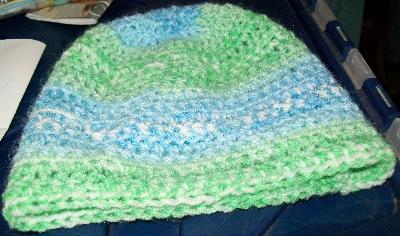 DH was home for awhile on vacation (had to use it or lose it) and mentioned a co-worker had just had a baby boy, so of course, I had to whip up some baby goodies and put together a present before he returned to work. I decided to go with hats and booties and then get some little undershirts at Wal-fart to put all together in a little gift bag.
The first hat I used variegated green and blue yarn, and it turned out pretty well. However, I thought I should also make one in plain blue as well, but I forgot to switch out crochet hooks. I had used G for the booties, and dang it, the hat is probably too small. I was supposed to use an H size hook. While this is not necessarily a craft-astrophy, as I can save this to donate to some charity later, I was back with the same problem of having to get another hat done before he went back to work.
As it turns out, DH finally mentioned to me that, oh, by the say, the guy isn't going to be back to work for a few weeks if not longer since he saved up tons of vacation and sick time. This ends my dilemma of getting the other hat done on time, but now adds a different issue since this baby could be too big for the items I've collected already! EEkkk!