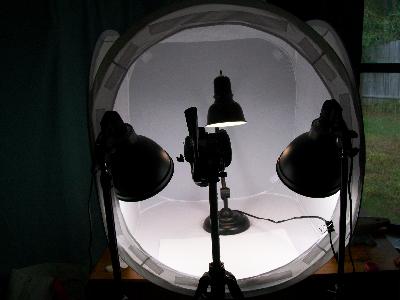 One of the reasons we didn't have any company like we usually do during Thanksgiving – other than the fact that I'm writing like a wild woman lately and my house is a disaster because of this – is because our guest room (aka sewing room, storage room, etc.) is now a photo studio. We have set it up in order to take photographs of the jewelry we are making for a new book my husband and I are working on together.
Above is a picture of the set up. All of this, other than the extra table lamp in the center, came in a very cool kit I got off Amazon.com. It includes the tent, white and black backdrops, and two adjustable lamps with two special high out-put photographic fluorescent bulbs, 45 watts each. This kit got some excellent customer reviews, and I have to admit that I agree. It has really made a difference to have this set up while working on this book.
I know photographing crafts and jewelry especially can be very challenging, and while there are lots of way to make a tent yourself, I think considering this whole set up (not including extra lamp, camera, and of course, camera tripod) is worth the money.