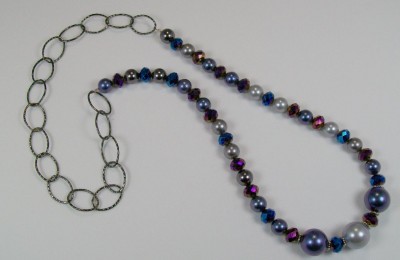 I usually publish at least one jewelry making tutorial every week on my About.com Jewelry Making site. If you haven't been by there in awhile, then you may have missed some of them:
Midnight Pearl, Crystal, and Chain Necklace (pictured above)
Golden Link & Crystal Hoop Earrings
Textured Brass & Bamboo Earrings
How to Oxidize with Liver of Sulphur
Green Fern Shell & Flower Silk Necklace
To make sure you don't miss out any future jewelry tutorials, sign up for my free bi-weekly newsletter over there. I publish one newsletter on Sunday nights (eastern time) and usually another one goes out mid-week around Wednesdays or Thursdays. The newsletters include link updates to tutorials, blog posts, and other related jewelry articles posted on the site.