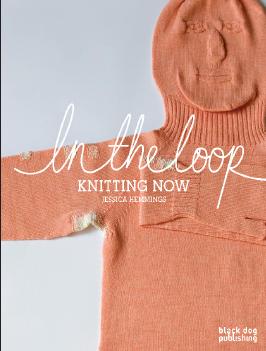 Black Dog Publishing has a new book out called In the Loop: Knitting Now, and because this publisher knows that I have some yarn lovers over here, I was sent some information about a special offer. Readers of Crafty Princess Diaries can get 40% off the cover price simply by doing the following:
Send an email to the publisher's rep Jessica at jess@blackdogonline.com
In the subject heading put "Crafty Princess Diaries Offer"
Include your delivery address
Jessica will get assist you with putting in your discounted order for the book.
Here's also a description of the book from the press release I was sent:
"In the Loop: Knitting Now explores the progression of knitting, a craft which has come a long way from its fuzzy image of thick socks, long shawls and embarrassing motifs on Christmas jumpers. Now there are knitting groups that meet in quirky venues throughout the country, as well as hundreds of clubs and contemporary artists intent on reclaiming the craft. In the Loop maps knitting's journey from solitary hobby for old maids to mainstream, contemporary trend.
Including visual essays by contemporary knitters, artists and academics, with chapters such as Rethinking Knitting, Narrative Knits and Site & Sight: Activist Knitting, In The Loop explores the diverse topics of knitting in art, international knitting traditions, knitting as social activism, the oral history of knitting and knitting technology—providing a fascinating insight into the world of loops, stitches and casting off!
Through case studies, essays and photographs, In The Loop documents the work of artists using knitting in their work, public responses to knitting over the years, the rise of contemporary knitting groups such the internationally renowned 'Stitch and Bitch' and the burgeoning popularity for 'Knit Lit' and do-it-yourself, environmentally friendly crafts.
Lavishly illustrated with images of contemporary knitting, In The Loop is an attractive volume with a fresh, modern and appealing design in keeping with the vibrant and creative subject matter. As such, In The Loop is an essential book for anyone with an interest in contemporary crafts, trends and textiles."