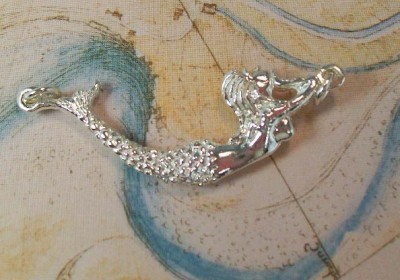 I did it! I managed to go through a large bag of jewelry I discovered while spring cleaning, and some of the silver charms I found (many of which I cast or my husband did) are up for sale on my "Sterling Charm Sale!" page. I actually have a lot more than what I posted. Plus, there are gobs of unfinished ones we still need to clean and polish. Those were discovered in the garage. Amazing what you can find when you start doing a little reorganization around here.
Some of these are just charms you can slip onto a chain and wear and others (like the mermaid above) would be perfect incorporated into finished jewelry pieces.
I'm going to attempt to sell these here via paypal and just see how that goes. I may put some other ones up on Etsy at a later point.