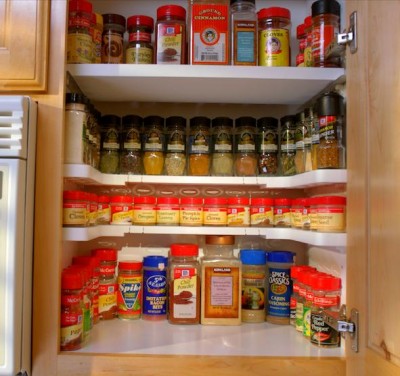 I am always trying to get my house and studio organized. I'm sure I'm not alone when it comes to figuring out how to get all your crafting and other home items organized but still easy to get to when you need them, so I was interested when I was contacted by the folks of
Spicy Shelf
. This product is obviously originally designed with the idea of organizing spice bottles and tins in your kitchen cabinets, but there are lots of other uses for it, not just for the kitchen. You could organize paints, bottles of beads, or even rubber stamps on these shelves that you insert into a cabinet. If you go over to the
Spicy Shelf web site
, you'll see a video of how it easily assembles, no special tools are needed.

And….they are offering the readers of Crafty Princess Diaries not only a discount but a chance to win a set for free! Yup!
To receive a $5.00 discount on two sets that normally retail for $19.95, use the promotion code SPICE5. (That is a 5 on the end, not the letter S by the way).
If you want to get a chance to win a set for free, then comment on this post and just tell me something about organizing your crafting supplies. Do you have a good tip? Are you struggling with ways to tackle your craft supplies? Just mention anything related to organizing your crafting supplies in the comments no later than 8/15 eastern time midnight. Make sure to include your email address so that I can contact you if you win, and you will have 3 days to reply in order to receive the prize. This is open to anyone living in the Continental US, and the prize will be mailed out by Spicy Shelf, who will need a street address to deliver to if you are the winner. One winner will be randomly selected.