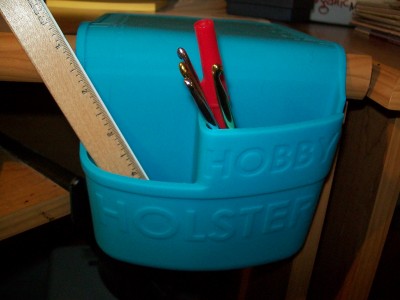 The folks at
Holster Brands
sent me a new product of theirs to test drive. It is called the Hobby Holster, and I have to say it is pretty clever. Pictured above is the holster stuck to my desk, and it has not budged, even though I've knocked it around accidentally a little. The idea is that you can use this for hot tools like a glue gun, so it is made of silicone. I have a few silicone utensils and tools for our kitchen. This is using the same concept, but instead, you can slip your glue gun in it while it is still hot and not worry about the glue going everywhere or burning your fingers. Once the glue cools and dries, you can just peel it off.
Though its original intention is for hot crafting tools, I like that you can put other tools in here and have them handy but not cluttering your work area. The top flap sticks to any surface, and then the two pockets provide space to store tools. Plus, the flap has centimeter and inch markings on it, so you can use it as a quick ruler.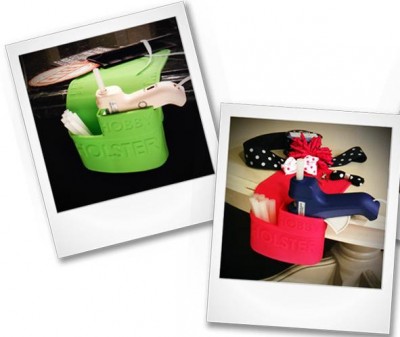 The Hobby Holster is available in turquoise, pink, gray, and green. Normally, it retails for $19.99, but
starting now through the end of the month (July 2014), you can go to the Hobby Holster web site and purchase at a 25% discount by using the discount code Princess25.
If you know of a few craters you plan to buy holiday gifts for, this is a perfect time to shop and get this product at a good price and tuck away for a present later.