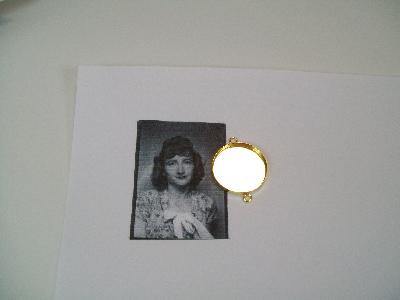 My plan for this weekend is to make a resin photo pendant to give to my mother of her mother for Mother's Day. My mom has recently started to make jewelry, and my grandmother passed away a few weeks ago, so I thought this might be a nice present that she can really appreciate by incorporating it into a jewelry piece she designs herself.
Here's what I plan to do (and hopefully, it will work): I printed the photo on regular paper, and I plan to cut it to fit into the round bezel (which came from Rings & Things, item #46-301-21-0). Then I will seal the paper in modge podge, and after it dries, I'll put it in the bezel and pour 2-part epoxy resin in it. This project is very similar to a Resin Flower Pendant project I created recently, so I'm fairly confident that it will work.
I think this is a great Mother's Day gift idea because you could also put in photos of her children or a flower like I did for my other resin pendant. Use a two loop bezel and create a kind of Y-necklace design, or use a one loop and just add a chain to it and you're done.