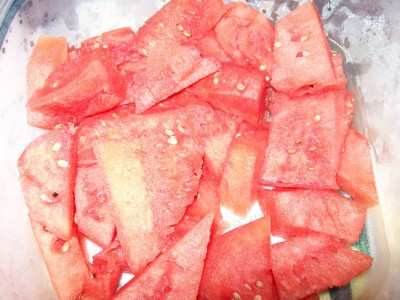 The heat is on in a big way down here in South Florida. It has been getting up in the low 90s every day, and it is just the end of June! July and August get even hotter! Amazingly enough, I have lived in this state most of my life and grew up when many places (house, school, car) didn't have any or very little AC. How did I do it back then?  One way I beat the heat now is to chill out with some watermelon and munch while surfing the web in my air conditioned office. Find some hot crafting ideas and stay inside as you cool down with these great links:
Cathie Filian
You can dye stripes and it is easy! Cathie shows you how.
Craftside-A behind-the-scenes peek at a crafty world
Craftside has a chance to win one of 50 "Bulking Dummies" and a "Lab" book, a new Look, Learn and Create Video with Tracie Lyn Huskamp showing us how to make a Nature Inspired Mixed Media card, some pencil drawing and illuminated art techniques, and an interview with Nancy Langdon.
Margot Potter The Impatient Crafter
Tell Dad how much he rocks this Father's Day or on his birthday with this fun and easy to make card from Madge for ILoveToCreate!
About Family Crafts
Be prepared for the next time you hear "I'm bored" from your kids… Bookmark this collection of fast and simple 10-minute crafts for kids!
Aileen's Musings
Need a new recipe for all the zucchini your growing? Download Aileen's printable recipe card, and baking some yummy Zucchini Cheddar Cheese Bread!
Carmi's Art/Life World
Carmi takes a Twilight cotton bag up a notch!
Mixed Media Artist
Cyndi shares some thoughts on her recent foray into self-publishing.
Stefanie Girard's Sweater Surgery
How to make coffin shaped cupcakes inspired by the book Kids' Cakes from the Whimsical Bakehouse
The Artful Crafter
Join Eileen in June's June "Let Them Eat Cake" creativity challenge and get a free cupcake. Sweet!