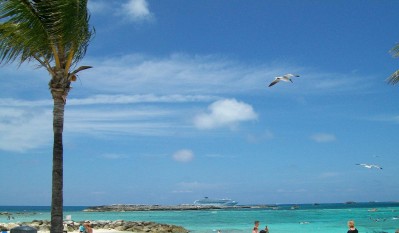 I return to teaching this week, so while technically summer just started, for me it is no longer summer vacation mode. On the bright side, summer is pretty sleepy around campus, even when classes are going on. It is nothing like fall semester which is pretty crazy. Thus, I'll be easing back into the daily work of grading papers, conducting class, and working on new ideas for next semester.
I always feel like I have to accomplish something when I have a chunk of time off from school, and for the most part, I think I did during my break:
I crocheted another blanket for my crazy dogs, and so far, it is getting the puppy thumbs up.
I went on a short cruise to the Bahamas and made my mom happy for a few days, and I learned that I'm not a cruise kind of gal.
I manage to get a few books read: Shanghai Girls, Snow Flower and the Secret Fan, Reading Lolita in Tehran: A Memoir in Books, and I'm close to finishing The True History of Paradise: A Novel.
I created a series of jewelry making kits, all earrings, and so far have variations of 3 (tutorial only, supplies only, and full kit including supplies & tutorial) listed in my Etsy shop. In fact, my shop had literally about 3 things listed around early May, and now not only have I increased my listings to 49, but I have re-shot tons of photos, gotten a new banner, and generally have it in much better shape.