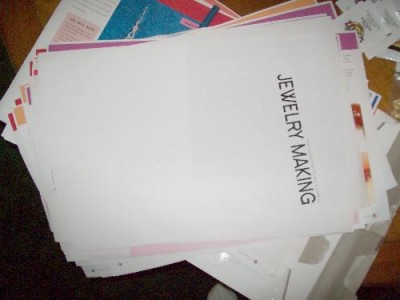 The galley pages of my book, The Complete Photo Guide to Jewelry Making
, showed up late Friday afternoon. The galley copy (also called a laser copy) is a pile of pages unbound that has all the text and photos in it pretty much how it will be in the final book. Larger photos are not totally clear, but for the most part, you get an idea of what the final product will look like. I could have had this sent as an electronic file – these huge pages are a mess to deal with – but I read so much better on paper than I do on the screen that I opted for hardcopy.
I have a little less than a week to review and send them back to the publisher. This is the one chance I get to see it before it goes off to press. I can, at this point, make minor changes, like typos. I'm still going back and forth on a few things with the publisher, but we are now at the point that decisions have to be made, obviously! Hopefully, they will trust my judgment – err…yes…I've written a tad about jewelry before you know 😉 – and we'll resolve some of the issue quickly, as in they'll do what I am asking them to do!
I think that is one of the issues about books that a lot of people don't know. The writer can often have limited control. Things like page count and layout can become so important that creativity and credibility go on the back burner.

That said, the book actually looks pretty darn good if I do say so myself. I forgot how much stuff is in this sucker, a lot!!