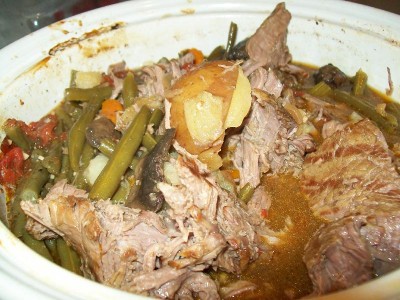 I'm not much of a meat eater, but I love this stew we make from time to time. It is also a great way to use up any leftover veggies in the frig, and you can freeze any leftovers of it (if you have any). I don't eat the meat, just the vegetables, carrots, green beans, onions, and carrots, and then add some of the gravy over it. Basically, you put a piece of meat (like a pot roast) in a crock pot along with all the vegetables and a packet or two (depending on how much is in there) of onion soup mix. Let it cook away until the meat is done. If you have time, considering searing the meat before putting it in there because it will add some extra juice/gray stuff. Okay, onto my weekend crafting links:
About Family Crafts
Grandparent's Day is September 12th… Now is the perfect time to start making gifts to give to your grandparents.
Aileen's Musings
Aileen teaches you how to make spectacular backgrounds using Krylon's spray webbing and also shares with you what NOT to do.
Carmi's Art/Life World
Carmi creates a faux metallic bead with quilted fabric she sews together herself.
Cathie Filian
Check out how Cathie turns an outdated holiday themed cookie stand and a cotton print thrift store skirt into a cupcake stand.

Craftside-A behind-the-scenes peek at a crafty world
This week at Craftside there is a free knit leaf coaster pattern, a bunch of decorating with artwork suggestions from the book 500 Ideas for Small Spaces, iron safety and cleaning tips from the book 1,000 Clever Sewing Shortcuts and Tips and an environmental labeling concept from Design School Confidential.
Eileen – The Artful Crafter
Here are directions for creating a hat-shaped card. Eileen made a Red Hat card but the directions can easily be adapted to make a cowboy hat, a Mexican sombrero, or a frilly lady's hat for an afternoon tea or luncheon.
Mixed Media Artist
Cyndi is giving away a copy of "Dimensional Beading," so hurry over and leave your comment!
Stefanie Girard's Sweater Surgery
See how I melted sequins inspired by the sequin singeing technique in the book Dusty Diablos.
The Crochet Dude
Drew tries out his new video equipment!!