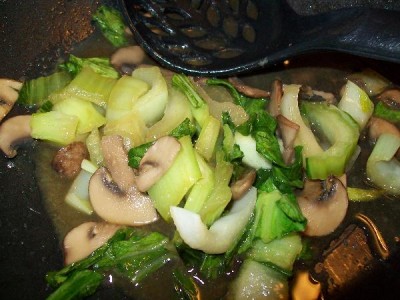 I have been trying to have a lazy holiday weekend, though you know how it goes. Because you have an extra day, that means you can add more to the do list. So my craft links I normally post on Sundays ended up sliding over to today! Other than being pretty productive this weekend, we have had some down time for some fabo meals like this stir fry with mushrooms, ginger, and baby bok choy. This was great with a few rare tuna steaks! Okay, onto link love time!
Aileen's Musings
Aileen offers you a tasty treat with a printable recipe card for delicious cinnamon rolls!
Carmi's Art/Life World
Carmi has a new sewn paper sample to share.
Craftside-A behind-the-scenes peek at a crafty world
This week at Craftside there are tutorials on how to make a perfect placement template when die cutting, how to paint a Pop Art cow with a free downloadable pattern, how to combine drawing and collage, and 7 pastel drawing techniques from the book The Art of Pastel.
Eileen – The Artful Crafter
Are you looking for ribbon weaving or Homecoming Mum Chain directions? Look no further.
Margot Potter The Impatient Crafter
Madge shares another post in her series on How to Write and Publish a Craft Book. This time we're looking at PR and Marketing.
Mixed Media Artist
Do you like making altered books? Or have you always wanted to try it out? Cyndi's got a series going right now that looks at altered books techniques and altered book artists!
Stefanie Girard's Sweater Surgery
See how I restyled a little dress with a bit of inspiration from the pretty book- Sew Serendipity.