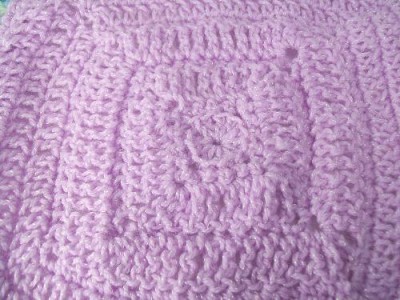 I'm attempting to make another crochet baby afghan using 10 inch squares. I decided instead of doing double crochet for each square that I'd crank it up a notch. The center square is from a pattern The Crochet Dude created and uploaded to the Heartmade Blessings group, and I've made it a few times for them so decided to make one for the center of this blanket. The pattern works in the round and include a bunch of triple crochet so this works up pretty fast. I think it's called "Cat Tracks."
The purple yarn is Lion Brand Baby Soft Lilac Pompadour, which has a touch of sparkle in it. I'm combining this with squares made from more Baby Soft yarn called Pastel Print. Here is the center square and two others stitched together so far.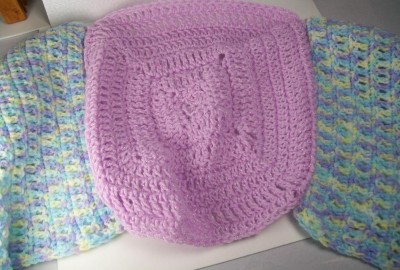 I alternated single and double crochet for the side squares. I have started some more purple squares and have decided to alternate between rows of single crochet stitch and triple so that they have a similar look to the center one. Just a few more squares to go and this will be finished!