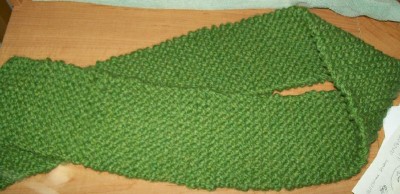 This is my first knitted scarf, well knitted anything! It's made with Wool-Ease Thick and Quick in the color Grass. The entire scarf is made with knit stitch, which I've since learned is also referred to garter stitch when you don't use any other stitch, such as purl. I found the instructions on KnitFreedom.com.
I'm working on another one now using the left over yarn, and this one is going to be a little narrower. Generally, I thought for a first project this turned out okay, and I plan to make a few more of them before moving on to another knitting stitch.
I am thrilled that I'm finally getting this knitting thing; though honestly, I'm not in love with knitting yet. Maybe something will kick in at some point when I do more of it. I'm finding it enjoyable, but I still prefer the hook over the sticks for a few reasons. One issue that I have with knitting so far is all the constant rearranging you have to do. Because you are working with two knitting needles versus one crochet hook, you have to switch back and forth between the two needles as you move the fabric from one to the other while making the stitches. Then you have to readjust the piece as it grows in length. So it is a lot of moving and readjusting, something that you don't have to do as much with crochet.
On the up side, since I'm learning to do English style knitting, I'm not using my left hand as much, so that has helped some with my arthritis since I can give that hand and wrist a little bit of a break now and then. I guess another "plus" is that doing knitting and crocheting both now gives me an excuse to have extra projects in the works because I have the excuse of knitting to give my hand a break or crocheting when my hand feels okay.