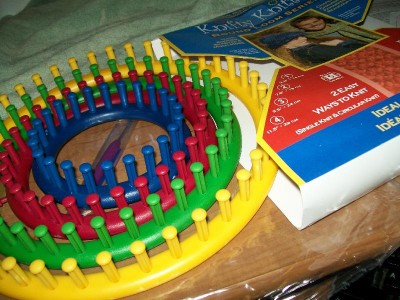 Of course, just when I find a good thing, it's gone! Or at least, it will be soon. According to the Invisible Loom Craft blog, Knifty Knitters are no longer being made. She does mention a few other affordable sounding options, but some of them were you have removable pegs don't sound that great to me. Removable could also be the same as pegs falling out.
Since getting my first round set of looms, I have done some searching to see what else is out there, and many looms I find are pretty pricey. Today, I went to my local Michael's, which still has a fair number of them in stock, and purchased a set of 4 round looms for about $10, after my 40% off coupon. Considering that's a little more than $2 each, that's not too bad. These are for the craft club, and now I'm wondering if I should get a second set for it. I do have mine to share, but since having them, I just about always seem to have a project going on at least one of the looms. Share? Maybe not 😉
I'm sure the nicer looms are nicer, but when you are first learn a new craft, it doesn't make sense (to me at least) to start with top of the line tools. For example, most people who start knitting or crocheting start with metal needles and hooks. An aluminum hook goes for less than $1 at Walmart versus a fancy rosewood hook that can go for about $12 each.
It will be interesting to see if other brands come in and take the place of Knifty Knitter, but I'm just glad I managed to discover these before it was too late!