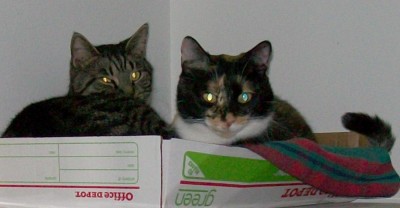 It seems lately that I've often included a little cat story and photo with some of my weekly link posts, so here is another one for you: Chanel adores Herbie! I mean everyone in the house does really, but this girl is flat out in love with this dude. Luckily, Herbie has a really easy-going personality, so when Chanel insists on squeezing into the box with him on top of my filing cabinet, he's okay with that. Notice how the box is sort of bent on the side? That's because Herbie and Chanel are both at least 9 to 10 lbs each, so we are talking a tight squeeze here. I love the look on her face, as if she's telling me "He's mine! All mine!"
Okay, now for some craft links from some of my fellow crafting bloggers:
Stefanie Girard's Sweater Surgery
See how to upcycle 3 t-shirts using inspiration and techniques from the new book 101 Tees by Cathie Filian.
About Family Crafts
Find out how you can participate in the current craft challenge and get your butterfly crafts featured!
Mixed Media Artist
Cyndi has had a busy spring and summer making beaded jewelry pieces!
Aileen's Musings
Take a flight over to Aileen's blog to view her ethereal gossamer wing tutorial.
Carmi's Art/Life World
Carmi has some beautiful frame cards to share featuring Fairyopolis!
Craftside- A behind-the-scenes peek at our crafty world
This week at Craftside brings you a chance to win 1 of 50 bulking dummies (blank books), a video from the 5th Annual Independent Handbag Designer Awards, a Steampunk decoration idea, facts about manual coffee grinders, and how to create a visual path in a composition
Eileen – The Artful Crafter
Consider the profit potential of jewelry repair and redesign.