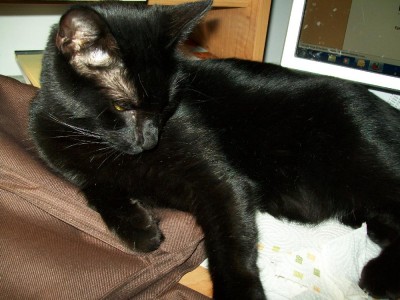 I don't have a lot of pictures of Lola because most don't come out that great. It is so hard to take photographs of animals with black fur, and her fur is super dark and soft, live velvet. Lola was an unexpected addition to the group of cats we adopted. She somehow made it under the radar.
We had reviewed the shelter's web site and contacted them also before going over, so we kind of had an idea of who we were going to adopt. We also wanted to adopt slightly older cats, around 2 to 5 years old.
Since we planned on adopting multiple cats, the shelter folks immediately steered us toward Chanel and Coco who were mother and daughter, and the shelter didn't want to (understandably) separate them. Then there was Herbie, whose description said he was about 2 1/2 years old and had been passed up too many times. He was super easy going from the moment we met him.
As we made the rounds of the shelter, we stepped into one room full of young black cats that swarmed us like flies, buzzing, purring, rubbing, loving like crazy! Lola was the first of this crowd to attack us (affectionately of course). She was all over us, trying to get inside my purse, literally throwing herself at us. How could we not take her? In fact, it was all we could do not take take every cat in that room!
When we got home, we looked at the paperwork and realized she was only 8 months old, not the older cat we had planned on, but it was all sort of serendipitous. Today, she is still super affectionate. In fact, she does this funny thing where no matter where you are standing, she comes up to you and brushes past you with her old body, sort of like if you swipe a credit card through a reader. After she does this, she usually stands right up next to you, so you have to really watch where you step!
Okay, that is today's cat tale (ha ha…) and here are today's crafting links, just a few but super good ones this week!
About Family Crafts
The current make-it-over crafts challenge is all about teaching math using crafts… Come play along!
Beading Arts
The "Mostly Metal" challenge was a great success, many thanks to Michelle Mach! Come and see all the fun pieces that were made.
Carmi's Art/Life World
Carmi shares a post she wrote for John Bead using embossing powders and metal.
Craftside- A behind-the-scenes peek at our crafty world
This week at Craftside there is a fun article all about Jeannine Stein author of Adventures in Bookbinding, which you have a chance to win just by leaving a comment in the post, an idea for using an unusual element as a curtain tieback, a bunny poem, and how to create a hierarchy and system for type.
Eileen – The Artful Crafter
Eileen takes a precious amethyst necklace from dull to dramatic.
Stefanie Girard's Sweater Surgery
How to make a Fancy Framed cartoon card and a chance to win a Cricut Fancy Frames Cartridge.