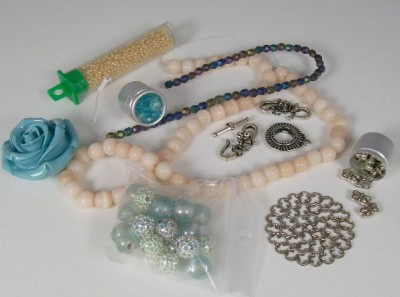 This is the gorgeous bead soup I received from my partner Shiraz from Secret Song Designs. She was so generous. Obviously, I have plenty of supplies here to make multiple jewelry pieces.
Except for a sterling toggle that I put in at the last minute, this is the bead soup that I sent. She sent so much, that I hope I sent enough. The rules require that you send a focal piece (which I figured could either be the lampwork bead (made by DD Hess) or the "passion" charm); coordinating spacer or other beads; and a special clasp. I made a few claps, but then I thought the toggle would be good to add just in case she wasn't thrilled with my wire handi-work.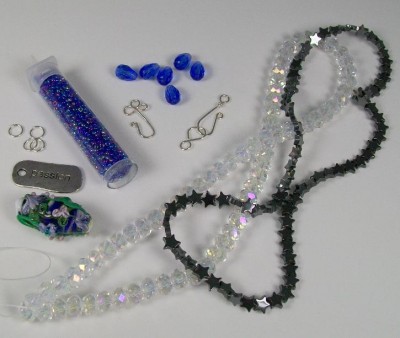 Once we get our bead soup from our partner, the next thing we have to do is make jewelry – duh – and we must use the focal and clasp; otherwise, we can use the beads sent and/or some from our own stash if we want.
Lori Anderson is the wonderful (and probably a tad crazy) lady who runs this now annual event, and she has 362 participants this time, wow! Finished jewelry pieces are supposed to be revealed on Sept. 17th, 2011.