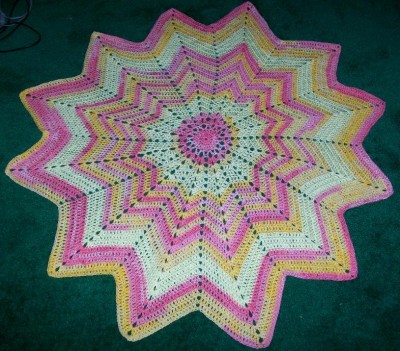 I finished this star shaped baby afghan this past weekend. My first one didn't turn out like I had hoped, so this is my second attempt. I'm very happy with the results, and I finished it in plenty of time for the couple I'm giving it to.
The original pattern came from here, and I changed it by using a different hook, altering the stitches a little, and using different yarn. I used a size J hook and Bernat Baby Softee, 2 skeins of Berries and Cream and one of Lemon Citron. The completed afghan measures 42 inches across, measuring in between two points of the star. Here is basically how I altered the pattern as far as stitches go:
First 5 rows – Berries and Cream and followed pattern exactly
Next 3 rows – Switched to Lemon Citron and continued to follow the pattern except I only used large shell stitches (2 dc 2 ch 2dc), no small shell stitches
Next 9 rows – Switched to Berries and Cream and continued the pattern, again using only large shell and not small shell stitches
Next 3 rows – Lemon Citron, large shell stitches
Final 5 rows – Berries and Cream, large shell stitches
So I ended up with a total of 25 rows. The shell stitches are done at the points of the star, and in between these are just double crochets. As you work around and around, you automatically increase double crochet stitches and your star grows.