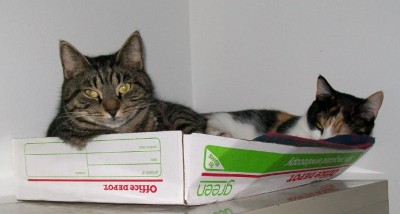 Herbie is our easy going brown Tabbie boy kitty who all the girls adore. Here he is hanging with his favorite playtime gal, Coco. These two spend hours playing with each other, and even though Herbie is a lot bigger than Coco, he is very gentle with her, often being the cat on the bottom while she tears into him!
The top of an old file cabinet in my office is one of the premier spots to snuggle and relax. This paper box lid is just about ready to get tossed and a new one put in it's place, but it is so well broken in I have had the heart to do the switch yet.
Okay, that is this week's little kitty story, and here are this week's craft links:
About Family Crafts
This week's craft challenge is all about making apples. Do you have an apple craft to share?
Aileen's Musings
Still in the spirit of getting ready for Christmas gift making, Aileen offers you a faux hand blown glass ornament tutorial that can easily be adapted for other holidays, as well.
Carmi's Art/Life World
Carmi shares new Humphrey the Elephant 3D cards.
Cindy Gimbrone Beads
Feeling like your craft business isn't taking off like you hoped? You might just be a scrub pine. What's a scrub pine? Come find out on Cindy's blog!
Connie Gee's Designs
Connie's making plans for 2012 – find out what projects she is planning to stitch in the coming year. It's always nice to plan ahead.
Craftside- A behind-the-scenes peek at a crafty world
This week at Craftside there is a chance to win a copy of the new book by Misty Mawn – Unfurling along with doodling tips, a Plaid Craft TV episode that features me and Steve making a Mod Podge bird house wind chime with a recycled sweater flower, some paint mixing tips and a recipe for watermelon granita.
Eileen – The Artful Crafter
Look at Eileen's crafty solution to an accident waiting to happen.
Mixed Media Artist
Cyndi pulls out an older collage to revisit a technique that mixes digital and physical aspects.
Stefanie Girard's Sweater Surgery
How to wind a spool of thread for serging with a Deluxe SideWinder.