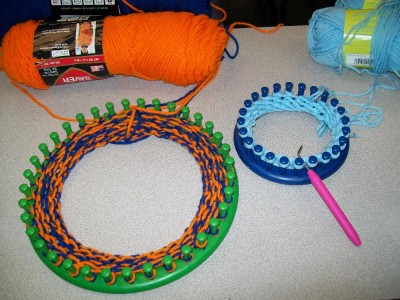 The knitting looms were a huge success at the craft club meeting. Each set of looms has 4 looms ranging from super small for infants to super large for probably making more like bags or cowls rather than hats. We ended up with 7 students showing up to our meeting (only the second one this semester). Two were at our first meeting, so they were geared up to continue with crochet and tackle double crochet stitch. One had learned crochet as a child and needed help remembering how to do it (though it is pretty much like riding a bike), and that left four students with looms. And they loved the looms, loved, loved, loved them!
Unfortunately, I could not get my loom DVD to work on the classroom computer, but I managed to get them all going, and I walked around and checked on their progress. We had to undo just about all of them at least once, but then they were getting it and were looming away! Our meetings last for about an hour and a half, and we do almost nothing but craft (just about zero club business stuff or anything like that). The time, however, zips by, and members are just getting the hang of it and have to leave, but they will hopefully continue to come back every week. In fact, one student actually made a trip to Walmart and bought herself her own crochet hook and a little skein of Jiffy yarn. I was so impressed with that!
An added goody to the meeting was a wonderful woman who is clearing out her yarn stash of acrylic yarn because she has now learned that she likes "the good stuff." She came by with huge bags full of yarn to give to us! It was a yarn bonanza! The yarns pictured with the looms above are some of what she gave us, so it was perfect timing.
I went ahead and purchased another set of looms and a few extra hooks. So far, we have had at least a half dozen members (plus) come to meetings, so I don't think we can really have too many looms!