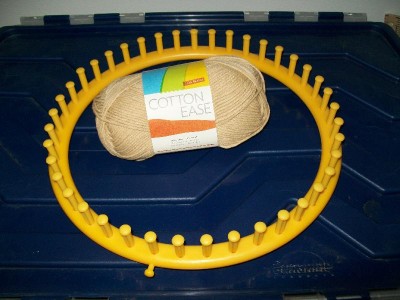 I am determined to make as many gifts as I can this year, and one idea I had was to make market bags. Who can't use one of these, right? I have been collecting and reviewing all kinds of patterns, and then I thought, "Hey, why not try to use one of my looms?" As it happens, I also had some Lion Brand Cotton-Ease in the color Sand in my stash, so I decided to try to design my own using the largest round loom that I have (11.5 inches), and then crochet the top and strap. I had mixed results.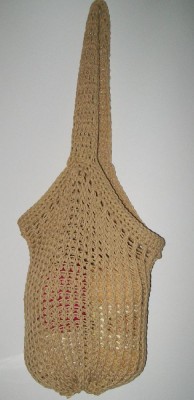 Above is a photo of the "good" side of the bag, the side that I had no loom boo-boos on. (I stuck a few skeins of yarn in the bag to fill it out for the picture). The bag, not including the strap, is about 12 inches long. So it isn't huge. You could use it for some fruit or your lunch, that kind of thing. Not too bad, right? Unless you see the other side of the bag….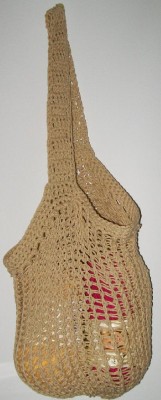 This is the "bad" side of the bag, where obviously, I lost a stitch or two or three! It is still usable, but obviously, I would not want to give this as a gift to anyone!
I ended up using just one skein of Cotton-Ease for this bag, and I believe I know what when amiss, so I am thinking of trying to make Market Bag 2.0 now because other than the lost stitches, the top of the bag and strap turned out fine. It's just, well, ugly (on one side)!