The cooler weather has gotten me into an afghan making mood, so I have been mulling over a few project ideas. Though I told myself that I was not going to make anything with a lot of squares that would be too fiddly to put together, well, I totally caved when I saw the free pattern called Knitted Patchwork Recipe. I love the idea that this is portable, uses up scraps, and is easy to do. Obviously, this is a long (long, long) term project, but it is perfect for working on in between other crafting projects I always have going on.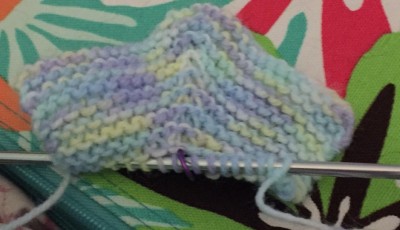 The pattern suggests using leftover sock yarn and size 2.75mm (US 2) knitting needles. However, I don't have a huge amount of sock yarn scraps. I do, though, have a fair amount of sport weight yarn and light worsted, so I will be using those scraps along with a US 5 needle (again, using what I already have).
When I made my very first square, I was baffled at how this was going to be a square when I finished it. I stopped and restarted a few times, and then I just decided to trust the pattern, and of course, it worked. I had my first mitered square, which lead to my second very quickly.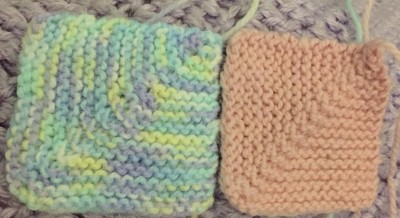 And….now I'm on to my third….I really have other projects I want to work on, but these little squares are so addicting. It's hard for me to stop. Mine are turning out to be about 2 1/2 inches in diameter. My husband asked me how many I will make and how big the afghan will be. I told him I don't know. He was kind of incredulous, but like I said, this is long term. I may need a 100 or I may not a 1,000. Who knows!? This could turn into a king size blanket or a placement.