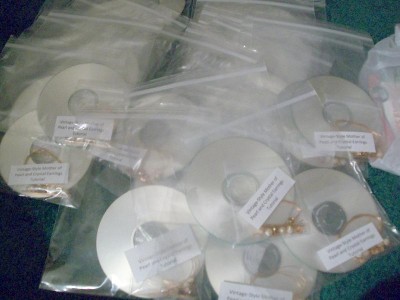 They don't look like much, but pictured above are 48 jewelry making kits I packed and mailed out the other day to a new wholesale customer, Annie's Attic. A few summers ago, I finally put together 4 earring kits and tutorials and put them up on my Crafty Princess Etsy Shop. They did okay as far a sales, but honestly, I did very little to promote them. I squeezed out the time to design the kits (which takes a major chunk by the way), but then I didn't have time to do the follow up marketing that I needed to do.
Then a few weeks ago, I was contacted by a rep from Annie's Attic about selling some of my kits wholesale. Luckily, I have had enough experience selling my finished jewelry that I knew when I put these together that I needed to price them so that I could sell them either retail or wholesale. The thing with wholesale pricing that turns some designers off is that you don't get as much per item, but you have to remember that someone who buys from you wholesale is not going to just buy one item. In fact, if anyone asks to do that the person is not really a wholesaler at all.
I ended up selling them two different kit designs, 24 kits each, for a total of 48 kits. Since I just mailed these out, they are not up on the company's web site yet, but as soon as they are, I will blab about it some more. I really enjoy making the kits. They combine my designing and writing skills, and I end up with a product that I can sell over and over again instead of just one time. I have some more kit ideas floating around in my head, so hopefully this is just the beginning of a new (successful) venue for me.