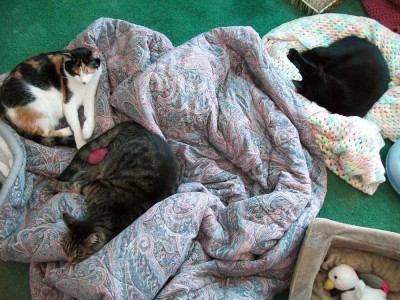 We have had some chilly weather down here in Florida lately. We rarely turn on the heat…well…actually, I wait until my husband is out of the house and I do kick it on for a little while when it gets super cold, but when the DH is around, he just gets too hot if we have it on. I worry about the cats getting cold at night since when we go to bed I put them in my office. So I pulled out this old comforter, and they love it. One problem, however, is that it warms up, but I usually still have a cat or two snuggling in it. It is right in the middle of the room, so you can barely walk around in there, but alas, my babies must stay comfortable, right?
Along with snuggling, this is good weather for drinking a cup of hot tea and cruising some crafting web sites:
About Family Crafts
Play along with the current craft challenge. Make a craft or two using CD cases and submit them!
Aileen's Musings
Aileen shows you how she repurposed a cardboard drink carrier into something beautiful using her new toy a Sizzix BIGKick.
Craftside-A behind-the-scenes peek at our crafty world
This week at Craftside there is a bit of Valentine inspiration, tutorials on how to face paint dragon and hydrangea masks, ideas and inspiration from Manga artist Melanie Schober, and a recipe for coconut veggie muffins.
Eileen – The Artful Crafter
Eileen shows how to make a lovely flowered bolster pillow to dress up a room.
Mixed Media Artist
Cyndi's marbled fabric quilt is hurtling towards completion!
Stefanie Girard's Sweater Surgery
Learn how to make a recycled sheer curtain flower fascinator.