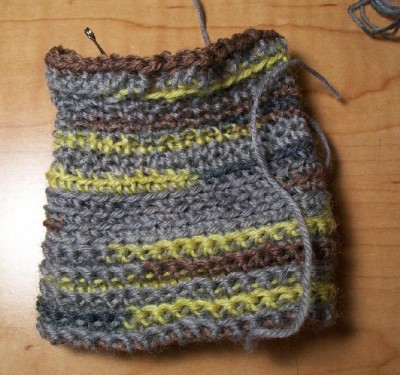 Sometimes, no matter what you do, you just can't get a project to work right. I have been trying to make a pair of fingerless gloves using a pattern from the Lion Brand site called All Season Wristers. They look like they would be perfect for some of those cool Florida mornings when the steering wheel is just a little too cool for my hands to stand. And, yet, I don't know if I will ever get these things made!
Above is a picture of my fingerless gloves project right before I frog it for about the fifth time! Seriously! I just can't seem to get this thing to work! The pattern is not really that difficult, but much of it is single crochet in the back or front of the loops. On top of that, I am working with sock yarn for the first time, and it is so thin. So I have a size F hook (G is about as small as I normally can stand), super thin yarn, and I'm going loopy going through all these loops!
Okay, rant over! Time to frog it, bag it, and tag it for later.