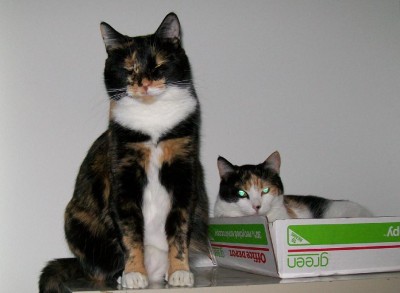 Here are the Calicos hanging. Even though Coco is a big girl now, she still loves to be with her mama, Chanel. I don't have much of a cat story today. We still are amazed at how less than a year later we have four cats who all get along and are loving life in our home. Enjoy today's links!
About Family Crafts
This week's craft challenge is all about the tooth fairy. Make and submit your own tooth fairy projects.
Aileen's Musings
Aileen shows you how to make easy peasy felt flowers using her BIGKick.
Craft Buds
Learn the basics of applique with a Valentine's Day themed LOVE t-shirt tutorial. It's perfect for kids or adults.

Craftside-A behind-the-scenes peek at our crafty world
This week at Craftside there is a tutorial on how to make Steampunk photo hanger out of a knife and key, how to draw a wide-angle view, a unique quilted canopy photo, and a recipe for whole wheat cinnamon raisin bagels.
Eileen – The Artful Crafter
Take a look at this awesome mixed media earring organizer.
Lindsay Sews
Challenged to use her fabric scraps for a project, Lindsay shares how she came up with the idea for a patchwork pleated boxes pillow.
Mixed Media Artist
Cyndi has finally finished her marbled fabric quilt. Yay!!
Stefanie Girard's Sweater Surgery
How to crochet a chain bracelet