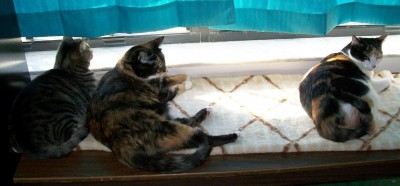 This one of my cats' favorite windows. It's a cat version of TV for them.
Aileen's Musings
Get your grunge on with Aileen's Grungy Heart Shrine tutorial.

Carmi's Art/Life World
Carmi get's to work with the new Claudine Hellmuth HSN kits!

Craftside-A behind-the-scenes peek at our crafty world
This week at Craftside there are chances to win 2 sets of 3 fabulous craft books, your choice of Indygo Junction patterns along with info on the Vintage Inspired Modern Style Design Challenge, a tutorial on how to paint on fusible web and a recipe for vegan Oreo cookie cookies.
Eileen – The Artful Crafter
Sew a cute pin cushion bracelet to keep your pins (literally) on hand.
Mixed Media Artist
Mixed media cards were the order of the day when Michelle Mach hosted a challenge!
Stefanie Girard's Sweater Surgery
An old purse gets a new look with Simply Spray paint.