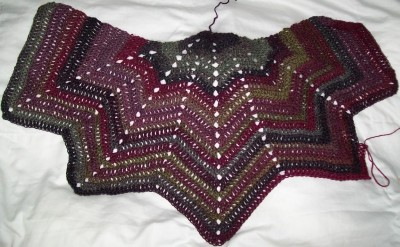 My spring break is just about over, and of course, I did not manage to do even half of the things I had planned. It always cracks me up when people say, "What do you do all week?" As if I couldn't possibly have anything to do for an entire week away from my job. Besides the fact that I did have to spend some time during my break on some school work, I'd say I lost a day at least, I always have plenty to do around here.
One of the activities I was planning to do and did not was to pick up my knitting needles again and work on purl stitch. Instead, I became enamored with this ripple shawl I started. Now, my love affair with the shawl has not been without its mishaps, but that is story for another blog post. As I stitched endlessly on this new project, I listened to tons of podcasts, some old ones I was catching up with and some new. That, at least, was one thing on my list that I did end up doing: listening to podcasts.
All this podcast catching up soon lead me to a number of new podcasts, so you will notice that I have added new ones to my list of Craft Podcasts (on the right side of my blog template) and removed some that hadn't updated in a really long time, so obviously, they are no longer recording. Here are some of the very recent ones I've added to the list:
So, do you notice a theme going on here? Knitting, knitting, knitting! Not that there is anything wrong with that, but where are the other craft podcasters? What about jewelry? What about crochet? What about scrapbooking?
I still have enjoyed crocheting on my shawl while listening and watching many of these this week, and I did learn a lot about knitting and yarn in general. However, I miss someone with a hook or a handful of beads talking to me.