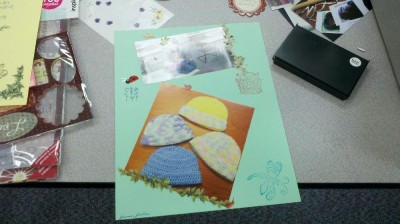 My college craft club had its last meeting for spring semester Thursday. I have been taking photos for the past year and a half as we have taught members how to do various crafts, like jewelry making, crochet, rubber stamping, and book-making, and we have used many of these skills and other crafting techniques to help those in need. At our last meeting, we worked on putting together a club scrapbook to help document all of our accomplishments:
We have made fleece blankets for Save the Chimps (a chimp sanctuary) and Miss Inc. (a women's and children homeless shelter).
Along with blankets for the chimps, we ran a donation drive at the school to help collect many of the other items like food and towels that are also needed at the sanctuary.
We have made crochet cotton wash clothes also for Miss Inc. and collected travel soaps to go with them.
We have made baby hats and blankets for Healthy Start. Have I missed anything?
Oh, yes, and there was the craft fair that we participated in, and we have also been selling our hand-made greeting cards through the college's print shop (who is nice enough to help us with that).
Then there were the animal blankets, both fleece and crocheted, that we made for Dogs and Cats Forever and Domino's House, which are two local no-kill animal shelters. Shew!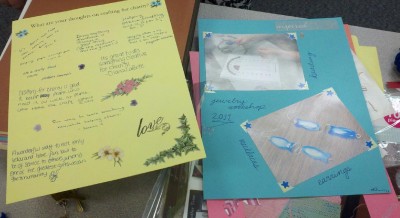 Putting together the scrapbook was fun, but it also was a great reminder of how much we have done!