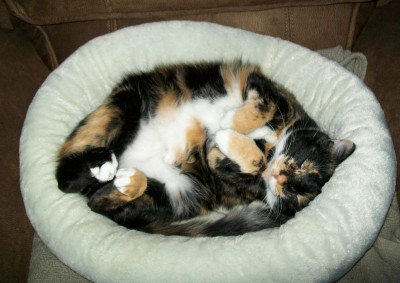 School is over, but I haven't been very busy yet because of some allergy attacks that won't seem to subside. Like Chanel (above), I have had to just take it easy for the past few days. At least I can craft virtually through the Internet.
Aileen's Musings
Aileen offers you a free printable label and shares the recipe for some tasty grapefruit curd.
Carmi's Art/Life World
Carmi reviews her first class at a Toronto sewing school.
Craftside-A behind-the-scenes peek at our crafty world
This week at Craftside there are tutorials on how to chiffonade leafy greens, sew a dart-in apron tie, make a retro kitty disco ball, and patch wallpaper perfectly.
Eileen – The Artful Crafter
Eileen has been at sea with creativity while making mementos of the trip of a lifetime.
Mixed Media Artist
Nothing makes bright colors pop quite like framing them with black!
Stefanie Girard's Sweater Surgery
How to decorate a sombrero for Cinco De Mayo