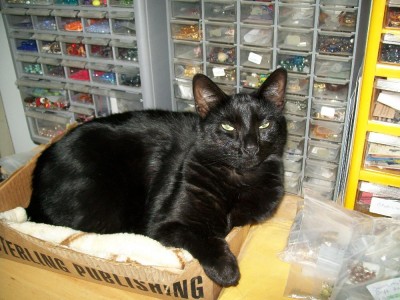 Beautiful Lola is guarding my beads. As you might imagine, she is very helpful when I'm making jewelry.
Here are this week's crafting links:
The Card Album
How to make a MOM tattoo style Mother's Day Card
About Family Crafts
Play along with the current Make-It-Over craft challenge! Submit your shrink plastic crafts or links!
Craft Foxes
Enter the "Mom & Me Knits" Contest to win a $50 gift card plus an assortment of knitting books, just in time for Mother's Day.
Carmi's Art/Life World
A styrofome head must be made into an auction worthy art piece….Carmi's results are now online.
Eileen – The Artful Crafter
The Artful Crafter shares free clip art sources to publicize neighborhood fun.
Mixed Media Artist
Cyndi got to film a master glass worker on the Italian island of Murano!
Stefanie Girard's Sweater Surgery
How to make a recycled leather and plastic Steampunk gear cuff.