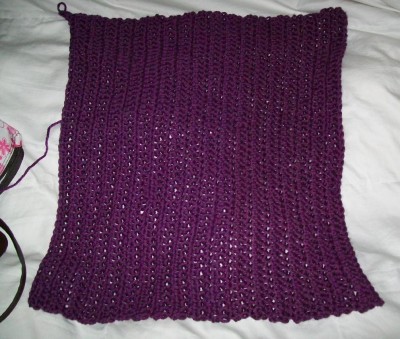 This is actually an older picture of the second shawl I have been working on. It is now over 3 feet long, and I probably have a few feet left to go. According to the pattern (Afternoon Breeze Shawl), the finished size is supposed to be 20 inches by 67 inches (over 5 feet long). This is really easy to do, and I have enjoyed working on it because it uses all half double crochet stitches (next to double crochet a favorite stitch of mine), and the yarn I'm using for it , wool from Black Sheep, feels great to work with. However….
It is so dang heavy I can't even tell you! The stitch is tight and the yarn is wool; duh, of course it's heavy! What was I thinking? As it turns out, the first shawl I finished (the ripple shawl) has been great to wear around the house. My husband and I are always playing battle of the thermostat, so when he has to have it cranked down (for example, he'll do this when he's cooking), I can just toss this on. It is really handy to pull on and take off quickly.
So I woke up this morning and realized….gulp!…time to frog this other shawl…rip it…rip it…rip it good!
It sucks to do that, but I know that this will turn into a shawl that I will never wear, and it's sucking up a lot of really good yarn that I could use to at least make a throw or even an entire blanket if I use a nice open stitch, like the V-stitch, which I used for a baby blanket once and really liked it.  Plus, I have to remind myself that crocheting is as much, if not more so, about enjoying the process and not necessarily the end result.