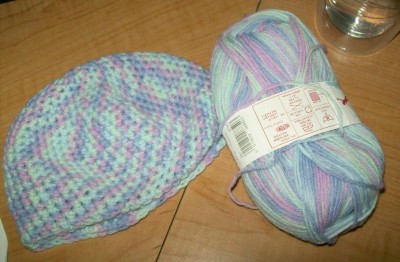 One of my yarn splurges awhile back was a 50 gram/170 meter skein of Peter Pan Double Knit 55% nylon and 45% acrylic. I purchased it at a yarn store with the idea that I make lots of baby items. Plus, since I'm trying to branch out and use different types of yarn, I knew I could find a use for this. I ended up making a few baby hats with it as well as a doll hat and doll scarf.  Even though it is only 50 grams, it has gone a pretty long way, so I have probably gotten my $6.75 cents worth out of it. However….
I have to admit that after working with it a fair amount now, it is okay but I'm not overly impressed. I actually felt it compared a great deal to Lion Brand's Baby Soft yarn. The Pastel Print (very similar in color to the Peter Pan yarn I purchased) comes in 113 gram skeins for almost the same price, $6.49 retail (if you don't catch it on sale). It is also a mix of nylon and acrylic: 60% acrylic and 40% nylon.
At least I tried something different, and I have few more baby hats in my donation stash, but unless I stumble onto a huge Peter Pan Yarn sale, I don't see this as being a yarn I will purchase again any time soon.