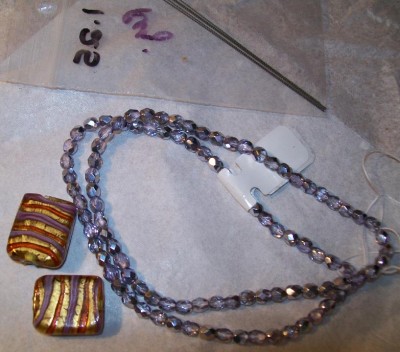 Today I had a chance to catch up with a friend I haven't seen in years. Neither of us are mall people, and both of us are crafty types. So we agreed to make a trip to a downtown area, stroll down the streets, stop by a few boutiques, and do lunch. We had a great time, even though, sad to say, the downtown is obviously struggling since there were many empty shops.
One shop that is thankfully still open is a bead store that I would estimate has been there now for around 10 years. It is really a beautiful store, well-lite, colorful beads and awesome and sparkly finished jewelry everywhere. However, as usual when I visit this place, I have a little sticker shock. I had the idea to buy some size 6 beads for doing some bead crochet. Normally, I've bought these in 40 gram tubes. I buy them on-line, and I have gone to a few retail bead shows over the years.
I was thinking of doing a bead crochet rope, which meant I would need a fair amount of beads. I figured that I needed at least two 40 gram tubes. Ah, yes, well….20 gram bags of size 6 beads were going for seven to eight dollars each. I just could not bring myself to buy them. Yes, I know the owner has rent, electric, insurance, and so many other overhead costs. All of this went through my mind while I was looking at all the fabulous beads in the store. And, I did not walk out empty handed. I spent a little over $20 and got a few small strands of Czech beads (which are working for my crochet jewelry experiment so far), two foil lined glass beads, and a few collapsible twisted needles.
My tiny bag of beads fit easily into my purse, and after my friend made her purchase as well, we were off to do more exploring. I'm happy with my purchase. I plan to make a simple pair of earrings with the larger beads, and hopefully, some kind of cool crochet necklace with the others. I know, too, that the high prices have probably helped to ensure that this shop is still open when so many other small shops and boutiques in the same area are now gone. I wish I was able to just buy any bead I wanted no matter the cost, but I can't.
Luckily, the shop has somehow found a clientele to support it on a regular basis. It was pretty quiet downtown, no big surprise since it was August in Florida and at least 90 degrees. My friend and I are both Florida natives, so we are crazy enough to handle the heat. I suspect normal customers for this LBS are what we call "snow birds" down here. They have winter homes on one of the islands and only live down here from around January to April. They probably stop by and take a few beading classes and don't have to really concern themselves with cost that much. Maybe they are the type that really have to see the beads before they feel okay buying them. I'm not sure. I am happy to still see this shop open, but wow, I am also very grateful that I know of lots of on-line vendors that I can afford to shop at as well.