It is pretty rare that I buy yarn without a project in mind, but I have been drooling over this skein from
Desert Vista Dyeworks
called Happy Birthday Cupcake. It is self-striping fingering weight, and I love the color combination of pinks, browns, blues, and greens. I finally caved and bought a skein because
Knitabulls Podcast
viewers were offered a 20% code (obviously go to her podcast to get it) for the month of August, which meant I saved a few dollars. All of these yarns are hand-dyed to order, so it took a little while for it arrive in the mail, but finally, I got it the other day. Yeah! I am not really sure what I'll do with it, maybe fingerless gloves or a little shawlette or scarf?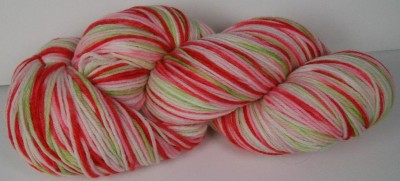 Here is another new skein in my stash, also fingering weight. This one, again, I have no clue what I will make with it, and in fact, normally the colors are not really my first choice. However, in person I love the softness and the colors are growing on me. I purchased it after watching an episode of the
Knit Me Happy Podcast
. She was selling this specific colorway, called Munchkin, in her
Etsy shop
as a way to help pay for the medical care of one of her cats, Munchkin, who was very ill. She was even offering a discount, so how could I not buy this yarn, seriously?

Finally, I saw that
Knit Picks
is now caring Harmony crochet hooks. I have been curious about these, and as it happens, I had a $5 credit owed to me by Knit Picks because of screwing up my last yarn order. I didn't have anything but an email from them about the $5 credit, nothing listed in my account. I was told to just remind them on my next order, but I ordered more than enough yarn last time that I didn't see my buying anything from them in awhile and was concerned that I'd forget about the credit. The size G hook (a size I use a fair amount) was only $5.79, so I figured I'd use up my credit and get a deal on one of these hooks. It is definitely pretty. I need some time to give it a good test run before I decide what I think about Harmony hooks in general.
That's it, just a few items. I see so many amazing craft products on-line every day that I could really get into trouble if I didn't have some self-restraint.