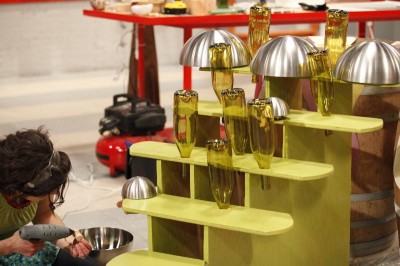 Tuesday 8/21/12 is the finale episode of TLC's new show Craft Wars airing at 8pm eastern time/7pm central. Make sure you don't miss it! This week's competition theme is food and wine. Hmmm…I wonder what she's making in the photo above.
Also, since this is the last show of the season, this also means the last chance to try to win the Craft Wars Twitter contest. You can read all the rules and regulations here. The nutshell version is that each Wednesday following a premiere of Craft Wars they will host a Twitter trivia contest beginning at 12PM ET. Be the fifth person to answer a trivia question about the latest episode correctly and you could win a pop craft from the show AND a personal tweet from Tori Spelling!
I can't believe that this is the last show already! Please crafters, make sure you watch tonight and show your support so we can see this crafting show return and hopefully more craft shows as well. It's about time we crafters had some representation on cable again.