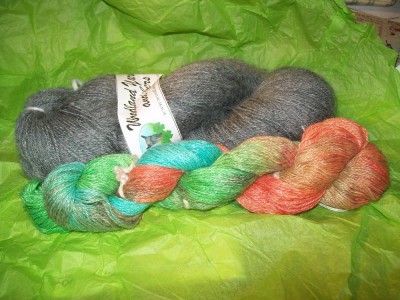 Yes, believe it or not, some yarn is made in Florida. Of course, I'm not talking about wool yarn because there are pretty much zero sheep down here, but there are a few alpaca farms in this state and with some surfing around, I managed to find a semi-local, a few hours away from me, alpaca farm that also sells some fiber. It is called Woodland Hills and is located in Brooksville, Florida, and it has a small Etsy shop with a little yarn and some fibers available for spinning too.
Why the hunt for local yarn? This was a challenge put out by The Fat Squirrel Speaks podcast, and at first, I just blew it off as something that I could not do. But then I remembered reading on a Ravelry forum about how there were alpaca farms in Florida, not a ton but more than I would have though. With some help from Google and some links she included in a forum post, I finally found a few places where I could acquire Florida yarn. Eventually, I settled on a skein of gray fingering weight yarn from Woodland Hills that is made of 80% alpaca/angora and 20% acrylic. To top it off, a little swag was included in my purchase, more alpaca yarn! So I really have two skeins of Florida yarn.
My next step is to figure out what to make for the local yarn knit along hosted by The Fat Squirrel Speaks. It starts up on September 1st and runs through October 14th, so it will have to be something easy and quick. I may even make a little amigurumi monster with the rainbow colored yarn.