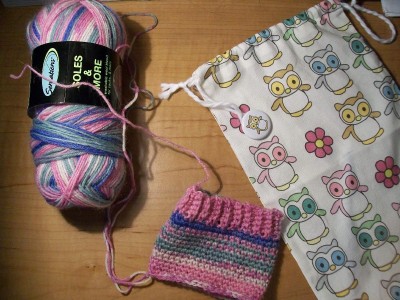 I'm attempting another knit along. This one is run by the Knitbulls Podcast and requires making socks using self-striping yarn. Of course, there is no way in the world that my knitting skills are up to the level required for socks, but I checked with Diane (aka knitbulls), and she said it was okay to crochet sock. As a native Floridian, I have to admit that socks are not a huge part of my life. When I'm home, I'm usually barefoot. When I'm out and about, I'm usually wearing sandals or flip flops. However, at night when the AC is cranking I do tend to wear socks at least for part of the evening.
Pictured is what I have so far on my first pair. This is actually my second attempt because the first pattern I tried to do was like reading Chinese. I really could not figure out what the heck the instructions were trying to tell me to do! Both the pattern I'm using now and the other I tried are from a book I got during the 50% off sale at Knitpicks. It's called Learn to Crochet Socks for the Family
. There are 15 patterns in this book, and all are at the intermediate level. That sort of tells you something: there is no such thing as an "easy" sock pattern.
The KAL deadline is mid-October, so hopefully, I can continue to have some success with this other pattern and get these made in time. Most of the stitches are single crochet, working in the round, so it's fairly fast once I figure out what I'm supposed to do.
Oh, and notice the cute little owl project bag? I got that from Freshstitches. It is probably one of the smallest project bags I have, but it is perfect for socks, and I love the little owl pin.