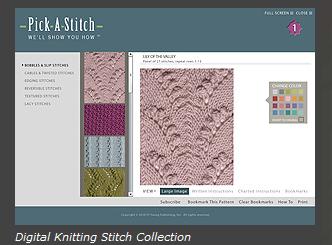 I am thrilled to announce another great giveaway here on the Crafty Princess Diaries. For the rest of November 2012, you have a chance to win a one year subscription to Pick-A-Stitch, which normally retails for $33.90 US.
Here is some information sent to me about how Pick-A-Stitch works:
Pick-A-Stitch™ is the first, and currently only, knitting stitch library you store on your computer.  The easy to use software consists of over 130 knitting stitch patterns in a wide variety of styles; cables, lace, textured, bobbles, reversible, edgings and more.  Each stitch has a full-color photograph and a color change feature so you can see the stitch in your favorite color.  Printable written and charted instructions are included for every stitch, plus you can bookmark your favorites.
The most unique feature of the program is that it is expandable (think iTunes for knitters).  New stitches can be added to your library via our stitch subscription program.  Six or twelve month subscriptions and back issues are available for purchase.  Our subscribers recently received two new categories, Estonian Lace and Estonian Lace Edgings.  We plan on adding a Japanese Stitches category in the near future along with pictorials for Japanese knitting techniques that may be unfamiliar to American knitters.
Each month subscribers receive an automatic email with their download code once an issue is released.  We have a short video on our website that explains the program features and how the subscription service works.  You can find it at www.pick-a-stitch.com

The Pick-A-Stitch™ program retails for $17.95 and is available for immediate download from our website.  Back issues are $2.00, six month subscriptions are $8.95 and twelve months are $15.95.  Each issue contains 13 to 16 new stitches every month.
To participate, simply answer this questions in the comments below:
What do you enjoy about working with fiber (knitting, crochet, sewing, whatever)?
Post your comment only once in this blog entry and you will get a chance to win. The deadline for entry is November 30th midnight ET. Then during the first few days in December 2012, I will randomly pick one winner. Make sure to include your email address when commenting. I will email the winner who will have 5 days after the drawing to reply back with a mailing address. Anyone who does not reply after 5 days will no longer be eligible to win, and I will draw a new winner.