I have been fighting the urge to spin yarn for probably at least a year. I told myself the usual: I do not need another hobby. I do not have the time. I can just buy nice yarn, so what is the point of making it?
Then two events happened that made me fall. First,I won a skein of hand-spun yarn from the Knitty Natter podcast. Zena, host of the podcast, had spun the yarn herself, and it was luscious. It was nothing like any yarn I had every used, even the fancy smancy Cascade alpaca that I adore. And, of course, I thought about how I would love to be able to make yarn like this myself.


This event was followed by a super duper sale at Craftsy.com. Among other classes, it had "Spindling: From Fluff to Stuff" on sale for $9.99 plus a kit available for $29 (which included shipping). That meant that for $40 I could give spinning a try and see what all the noise was about and figure out if it was something I wanted to continue doing or not. Where are you going to get a spindling class for $40 anywhere, let alone Florida?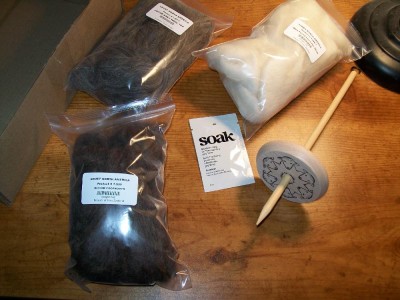 So, yes, I fell. I signed up for a few classes on Craftys.com, including the spindling class, and I bought the kit (pictured), which includes a spindle and six ounces of roving. It seemed to take forever for the dang kit to arrive, but when it did, I went right at it with the picture of Zena's wonderful yarn dancing around in my head.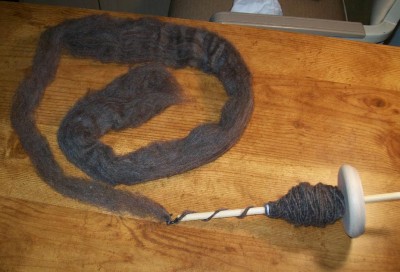 Here is the start of my first few ounces of roving, which pretty much ended up looking like something my cat had hacked up, but I did not expect perfection right away. Admittedly, it was harder than I imagined, but still, I was not in any way planning to have a fabulous or even useable skein of yarn when I was done.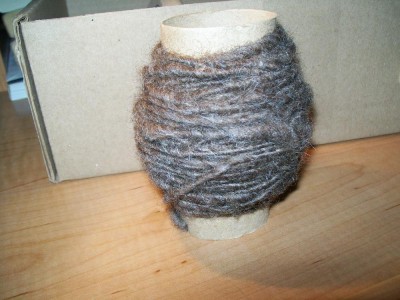 Here is what my first two ounces looked like before setting it. Yes, no surprised here. It is thick and chunky and funky. I like to refer to it as "art yarn;" yes, that's what it is, art yarn!
While there were no surprises as far as the first finished product, the process did surprise me. I have watched people spin a little before, but when I did it myself, I had not expected it to be such a physical craft. I had to use both hands at the same time, one to hold and draft the fiber and another to hold and spin the spindle. I had to stand instead of sit like you would do knitting or crocheting. I had to hold my arms up to keep the roving from twisting or getting the back part sucked into the spindle. After spinning on my spindle for the first time (for perhaps 30 minutes), my legs, back, and arms actually felt a little sore. (Note: The spindle was flying all over creation, so some of this soreness could have been due to chasing it around the room!)
I am in no way claiming spindling to be physical exercise, but I was caught up in both my mind and body during the procedure of spinning. I was ultra-focused on what I was doing. During the class, the instructor (Drucilla Pettibone) actually mentions the idea that it is a Zen activity, and I sort of brushed it off. But, she is completely right; at least for me that was my experience, and this is still repeated each time I pick up the spindle.
Look for my first few skeins of funky, chunky, wonky yarn to be revealed soon.