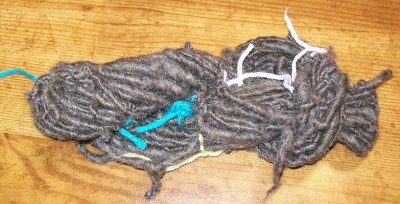 Ummm…yeah…believe it or not, this is a skein of yarn, my first. The fiber was 2 ounces of medium Coopworth, and as you can see I spun the bajebeez out of it! The colored bits of yarn hold the skein together. It's part of the process before you set it and let it dry. It is single ply because, seriously, why ply this chunk of stuff?

Now here is my second attempt, also a single ply. This is from 2 ounces of Blue Faced Leicester Silver. While this is also over-spun, I can see that my thicknesses are a little bit more consistent. And, I mean a little.

As I was taking the yarn off the bobbin and putting it on a contraption called a Niddy Noddy (a contraption that allows you to form the yarn into a skein without getting all tangled up), it broke, so this is the last bit of the spun fiber from above. Since this was at the end of my bobbin (aka TP roll), it was the very last few bits that I spun, and again, I see improvement. It's not a breakthrough amount of improvement, but…
My first few ounces look pretty rough. I know that I'm rushing things. I over spun them, and they truly look awful. This is not an immediate gratification craft, and I'm learning patience and persistence. Hopefully, it will pay off. I'm not going to think about giving up until I spin some more. I have ordered some roving, and I'm giving myself a one pound challenge. If I can't get it together and make something that is at least semi-usable after practicing with a pound of fiber, then this may not be for me.