Though I have enjoyed making a number of amigurumi bears from a pattern I received while taking Craftsy.com's Woodlands Animals class, I have had the Buddy Bear pattern from the Lion Brand site in my pattern collection for awhile now. He just looked so cute! So I finally made him, but Buddy has had a few issues. The main issue is his face, which the pattern just says to add safety eyes and embroidery the nose and mouth. Humph! I am terrible at embroidery, and I am not using safety eyes for the toys I'm making to donate to the shelter. What the heck was I to do about this dude's face?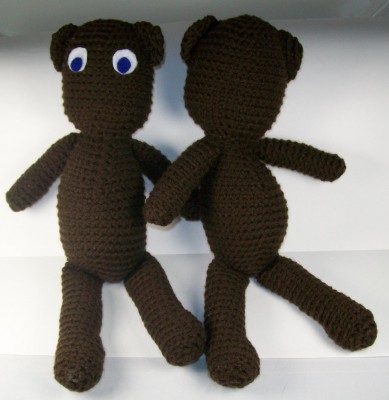 Well, of course, felt was my first idea, so I went ahead and made some eyes out of felt and glued them on, and I was pretty sure I would use felt for the nose and mouth, but alas, of all the zillion pieces of felt I have, none were the right color! My thoughts were that I'd pick some up from the local craft store when I went grocery shopping in a few days…no worries…and so I moved on to make Buddy Bear number 2.
My plans for the craft trip and grocery trip took a turn when I got sick. I even had to cancel one of the classes, which I haven't done in probably 5 years….I kid you not. Teachers cannot get sick. We just can't. Or, at least, we can't get so sick that we can't drag ourselves into class.
I was home for a few days sleeping and sleeping and sleeping and still had two faceless bears. Then it came to me! I could use a technique from Stacey Trock's bag of tricks and crochet a snout for them. I finally felt good enough today to crochet again and operate on the Buddy Bears.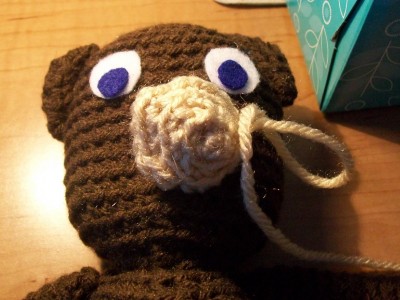 I crocheted small circles with a total of 18 stitches and then glued on a brown felt dot to the end after stitching them to the face. I'm very pleased with the results!