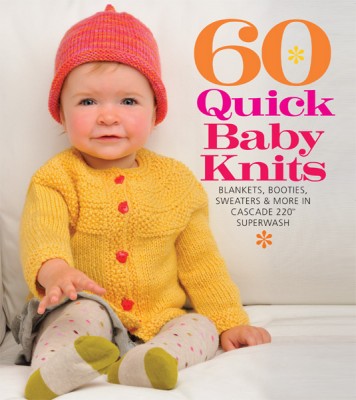 60 Quick Baby Knits: Blankets, Booties, Sweaters & More in Cascade 220™ Superwash (60 Quick Knits Collection)
is published by Sixth and Spring books and retails for $17.95 in the US and $21.95 in Canada. All of the projects are knit using Cascade's 220 Superwash yarn, and the 60 projects were designed by a variety of professional knitters/designers. A few names that may look familiar include Jeannie Chi, Lee Grant, Tanis Gray, and Veronica Manno.
Of course, with 60 patterns that means you get a really big selection, and I have to admit a fondness for making baby items. They are smaller so usually quicker than adult patterns. Now as far as being really "quick" as the title suggestions, I think that may be kind of subjective depending on your skill level. All of the pattern are designated beginner, easy, intermediate, or experienced. The majority of projects are categorized as intermediate, so if you are a beginner knitter, that means these may not be that quick for you.
So for intermediate to experienced level knitters, these would probably be pretty fast to make. The photographs are also a good point of this book. There are lots of them, which means you can get a good visual idea of what the finished item will look like. For me, that's a big plus.
If you have the skill level needed and want a good selection of patterns to pick from for your baby knits, then definitely consider taking a look at 60 Quick Baby Knits. For those with less experience, one nice point of this book is that you can have projects that will expand your skill level but are not a huge commitment since they are so small.