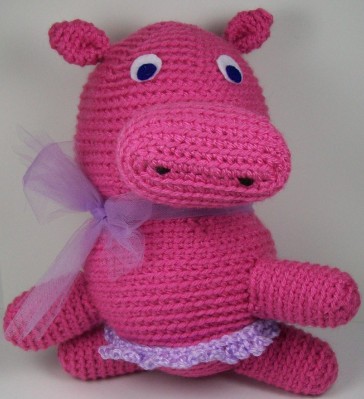 Hippo number 2 turned out much better than
my first attempt
, though not perfect. I will hold back from pointing out all of the things I wish had turned out different, but generally, I am happy with the end result. I even figured out how to make her a little tutu.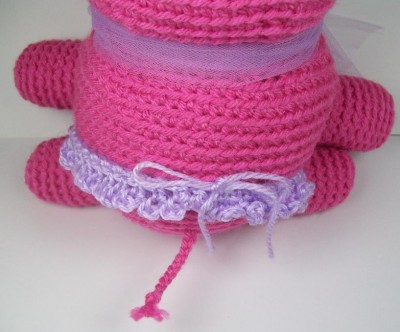 Unlike most of the other toys I have been making lately, this one is not for charity. It was a special request from one of my sisters who plans to give it as gift to a little girl, and she asked specifically if I could make a tutu for the hippo. As it happens, because I rarely throw out any piece of fiber, I also had a little purple tulle that I used as a bow around her neck, and it matches the purple tutu.
I used Vanna's Choice baby yarn for the hippo (such a welcomed break from Red Heart Super Saver), and some left over Bernat Softee yarn for the tutu. The hippo is from a pattern by Stacey Trock, which is part of a free Crochet Me e-book, and I just winged the tutu. In the book, the pattern is for Hugo, and since this is a ballerina girl hippo, I've named her Hugo-Rina. Other than that my hippo is a girl rather than a boy, the other deviations include a tail and she has a closed snout, and I added few nostrils with a little black yarn. Oh, and of course, Hugo is not wearing a tutu.