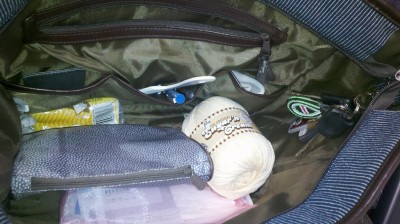 Like any dedicated crafter, I try to make sure I have a small project with me pretty much all the time, just in case I have any downtime or, in my case lately, I'm stuck in a meeting and need something to keep myself busy. I am not the type that can just sit and listen without doing something or my mind wanders. In the past, I have either taken notes that I never actually go back and reference or I would doodle. Now that I have come out of the crochet closet and crochet during meetings (at least many of them), crocheting a wash cloth is my form of doodling.
Luckily, one of my favorite 31 bags is perfect for keeping my yarn, books, ipad, phone, wallet, keys… umm……yeah..everything but the kitchen sink handy.
Recently, I posted some tips about getting good deals on 31 Gifts bags, and I briefly mentioned one of my favorite bags and showed a picture of it along with a smaller bag, but I did not give details about these two bags, so here goes:
The larger bag is called the Cindy tote, and retails for $70 (unless you use my tips for getting deals of course…I paid $35 for mine). It has a zipper on the top to close it up, and it has two outside pockets on each end that are large enough to hold a water bottle, a large zippered inside pocket, and three other inside pockets. There is also a hook inside for attaching your keys. It has a flat base with little metal feet, so it stands up (when you put stuff in it), and it comes in 4 different patterns. Mine is in Railroad Denim.
The smaller bag is part of a set of make-up bags that come together. The set retails for $35, and they come in 5 different pattern groupings. For mine, the larger makeup bag is in Woodblock Floral, and the smaller one (that goes in my Cindy tote) is in Grey Pin Dots.
I have been trying to figure out a good bag solution like this for awhile and before discovering 31 bags I was looking a lot at Namaste's products, but the large bags are all are made of vinyl, which I'm so-so on. The Cindy tote has plenty of room for a skein of yarn plus all my school stuff, and I keep a little pair of scissors and a crochet hook (along with makeup, pens, and other odds and ends) in the smaller makeup bag. They work perfectly together, and I now always have a project handy just in case I'm stuck somewhere.