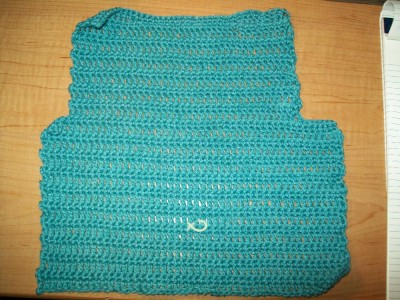 While on my summer school break, I plan to get through a few
Craftsy.com
classes, starting with the "Beyond Rectangles" class. This class is taught by Linda Permann, who just happens to be one of my favorite pattern designers. She is often published in
Crochet Today
, and I have made a number of her designs.
As the title suggests, this class is supposed to be beyond the basics, so I assumed it was an intermediate level class. In the class, you make a baby cardigan as a way to learn garment construction. Pictured is the back of the sweater, and I just started one of the sleeves. So far, I am enjoying this class. I feel like I have already learned enough to justify the cost ($9.99 during one of the company's sales). I think Linda is a great teacher too, very calm and a little funny too.
At this point, I am on lesson 6, so I am only about half way through the class. A few things I have not enjoyed about the class is that there was an entire lesson spent on the basics like how to hold a hook and do chain stitch. I skipped that part, and I know I'm not perfect and probably could learn a few tips still if I went back and watched it. However, I want to make the sweater and learn more advanced techniques, not how to do a freakin' chain stitch. So, yes, that kind of irked me a tad. One other issue I have had so far as well is that the pattern for the sweater is not written in the same order as it is demonstrated. The pattern starts with the left front of the cardigan, but she started us first on the back. She did give a reason for this, which I can't remember now, but it made sense to me at the time. It is just that I'm now used to reading a pattern, and starting on the second page makes it a little confusing when I go back after setting the sweater down for a little while.
Like I said, though, it is a really good class, and I'm excited to think that after I finish it I will (hopefully) be able to make a sweater for myself!