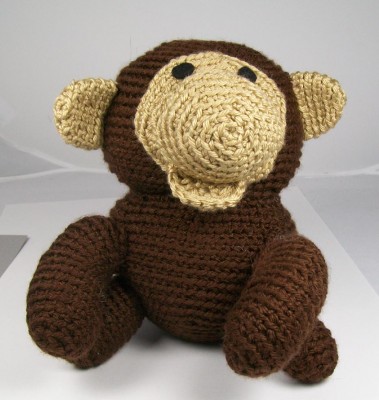 One of the charity organizations that my college craft club likes to help out is the Save the Chimps Sanctuary. We did a donation drive one year, and we have also made fleece blankets for them, an item always on the organization's wish list since residents enjoy snuggling with them. We plan to make more blankets for them this semester. It is a very easy and fast project for us, and club members do not have to have advanced crafting skills to measure the fleece and cut it with scissors.
I got the idea that in addition to the blankets I could make an amigurumi chimp, and the club could raffle it off. I looked and looked and looked for a chimp pattern, only to find either lots of monkey patterns or some chimp patterns that just looked weird or were super small. Finally, I opted to turn an orangutang pattern I found in Crocheted Softies: 18 Adorable Animals from Around the World
into a chimp by using different colored yarn.
I think he works, but I'm going to show him around to a few people before I put him up for the raffle. I will be so embarrassed if no one can figure out what he is supposed to be!