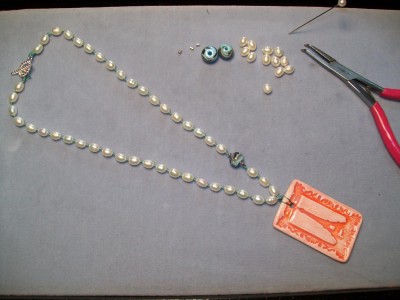 When I ordered this ceramic Eiffel Tower pendant from
Blu Mudd
, I already had this design pictured in my head. Originally, I was going to string it on brown wax cord, but I could not find it. I still can't find that thing! I dug around in my fiber and found some leftover Superlon Size 18 cord I had received in the
Trade Route Necklace kit sent to me by Beadshop.com
. That necklace turned out super cool, by the way, and I had some of this cord left over. I can't remember what the color was that was in the kit, sorry! Beadshop has a ton of colors too, but I'm guessing it might be the dark teal color cord.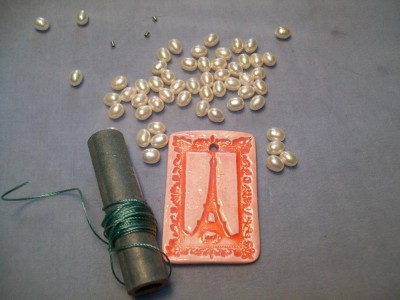 So other than the ceramic pendant and cord, you will also need the following if you'd like to make this necklace:
44 – 5mm Large hole pearls (I got mine at beading.com).
1 – 10mm Lampwork bead (I got mine from DD Hess and actually used 2 extra beads to make a pair of earrings too.)
2 – 3mm Silver colored Czech crystal beads
12mm Silver toned toggle clasp
Clear drying glue
Scissors
Corsage pin (or awl)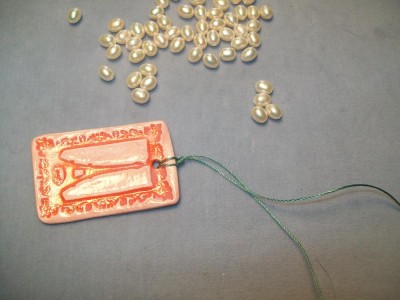 1. Cut off about 4 feet of cord, fold it in half, and insert the folded end through the hole at the top of the pendant.
2. Insert the two ends of the cord through the folded part, and pull on the two strands so that you end up securing the cord to the pendant.
3. Make an additional overhand knot right past the anchor knot made in step 2.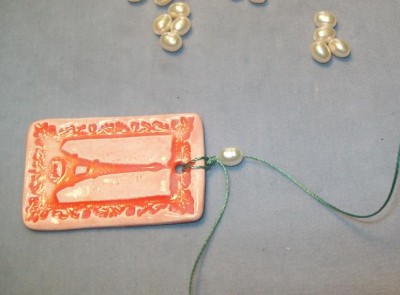 4. Slip on a pearl bead, and push it up against the knot you just made.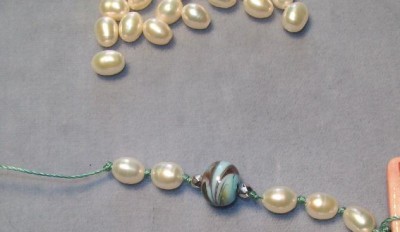 5. Using a corsage pin or awl, make an overhand knot on the cord, insert the pin through it, and push the knot up against the pearl. Repeat this two more times so that you have 3 pearls knotted on the cord.
6. Add a crystal bead, the lampwork bead, and another crystal bead into the cord, push these down up against the last knot before making another knot on the cord just past the last crystal bead you added.
7. Continue to add pearls and knot between them until you have a total of 21 pearls on that side of the necklace.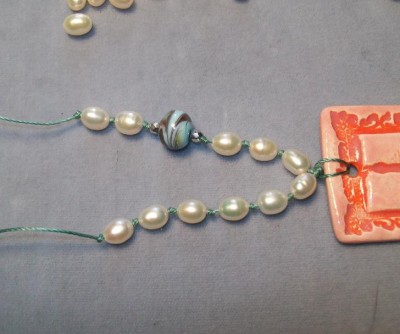 8. Add pearls and knot between them on the other side of the necklace strap for a total of 23 pearls. (Note: Since natural pearls can vary in size a little, sometimes it is a good idea to knot a few on each side of the necklace strap as you go. This way, you can try to make sure both sides of the strap are as close the same length as possible.)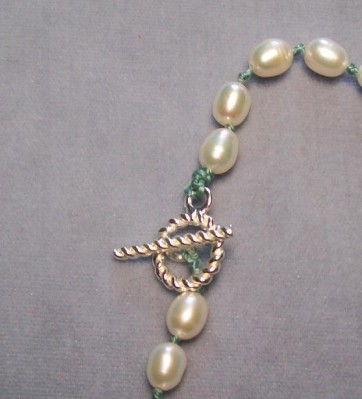 9. Insert the cord through the loops on each side of the toggle clasp, knot a few times, trim off excess cord, and add a dab of glue on the knot. Allow to dry before you wear your necklace.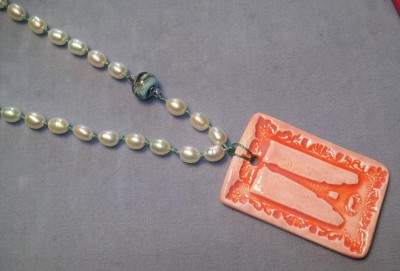 The beaded strap on this necklace is about 18 inches long, and the pendant is 2 inches, for a total of 20 inches. I made some earrings to go with, so I will be showing those soon too. I have worn this a few times already and have gotten lots of compliments. I love how it turned out….can't go wrong with pearls and Paris!